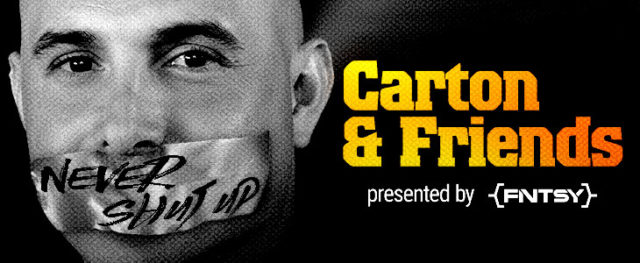 Host: Craig Carton
Monday-Friday, 9AM-12PM
Click to Watch Carton and Friends LIVE!
Innovative, irreverent, entertaining, compelling and a must listen are just a few of the words used to describe Craig Carton. A two-time Marconi talk show host of the year finalist and the nation's former #1 highest rated morning sports talk show host joins forces with SportsGrid's FNTSY Sports Radio Network to reclaim his crown. Listen as Craig and his group of celebrity friends together with a fresh group of off the wall real-life characters broadcast live from Studio 34 in the heart of Manhattan, weekdays, from 9:00 am to – 12:00 pm EST.
About Craig Carton
Craig Carton began his broadcasting career in 1991 at WGR Radio in Buffalo, New York. He moved from Buffalo to WWWE in Cleveland, Ohio in 1992, and later to 610-WIP in Philadelphia where he was a brash weekend host known as "The Kid" often filling in on WIP's Morning. He was the first person to break the news story that the Philadelphia Eagles had been sold to Hollywood producer Jeffrey Lurie.
Carton left the East Coast for Denver, Colorado, working mostly at KKFN 950 AM, "The Fan". His morning show took off immediately despite his never getting along with the program director, Tim Spence. He was the highest-rated host in the station's history, which resulted in his being offered the morning slot on KBPI Radio. He quickly became the top-rated local morning show in Denver radio. 
In late 2000, Carton became Scott Kaplan's replacement on WNEW-FM's "Sports Guys" morning radio program in New York City. He was a "Sports Guy" for one year. He worked with Sid Rosenberg and Blain Ensley and then just Ensley when Rosenberg left. Carton took the show in a new direction, adding stunts such as an on-air cockfight and "Pastapalooza". Carton was also broadcasting live with Ensley on WNEW during the September 11 attacks in 2001.
Carton, a New Yorker, then became a "Jersey Guy" on New Jersey 101.5.
In 2007, Carton departed for a morning opening at WFAN (AM) as Boomer Esiason's co-host when Esiason was hired as the permanent replacement for Imus in the Morning. The program, called Boomer and Carton, reached number one (men 25–54) in the Arbitron Ratings within a year, a ranking that Imus had not achieved since 1993. The Boomer and Carton show remained #1 in the Arbitron Ratings until Carton resigned in August in 2017. Since Carton left the WFAN morning show, it has gone from #1 Arbitron Rated to 7th in the 2018 Winter Ratings and 9th in the first month of the 2018 Spring Ratings. Boomer and Carton was simulcast on MSG Network from September 14, 2010 until September 11, 2013. Starting in January 2014, video simulcast was carried by the CBS Sports Network.
On March 29, 2018, Carton returned to radio as host of Carton & Friends on the FNTSY Radio Sports Network. The audio of the show is widely distributed on the FNTSY Radio Sports Network platform, iHeart and TuneIn with video syndication on most major OTT platforms. On May 29, 2018, Sports Byline USA picked up distribution of Carton & Friends on its digital stream, select terresterrial radio affiliates and on the Armed Forces Radio Network.