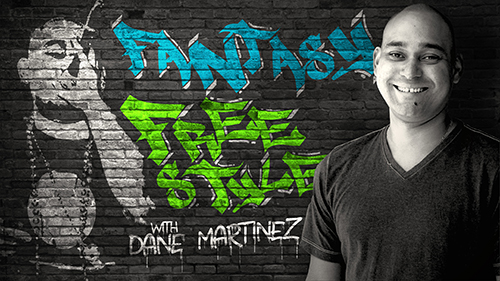 Fantasy Freestyle
Monday – Friday 7 – 8 PM, ET
Host: Dane Martinez, A.K.A. SPEEDZ
Dane Martinez brings energy, analysis, and hip-hop flavor to the fantasy world on "Fantasy Freestyle," broadcast live from FNTSY Sports Network's Studio 34 in the heart of NYC, overlooking MSG and in the shadow of the Empire State Building. Known as SPEEDZ, the Spittin Statistician, Dane analyzes the news of the day and its impact on fantasy sports, featuring the flagship "Top 5 Dead or Alive" segment, breaking down headlines and determining if they're blips on the radar or a larger story fantasy players need to act upon. The show also regularly features "Diamonds in the Rough and Fugazis" – an outlandish approach to the traditional "Sleeper and Bust." SPEEDZ calls his shots with guests, listeners, and audience members in a format where conversation – and controversy – play center stage.
Also broadcast live on FNTSY Sports Radio Network, Monday through Friday from 7pm – 8pm ET.