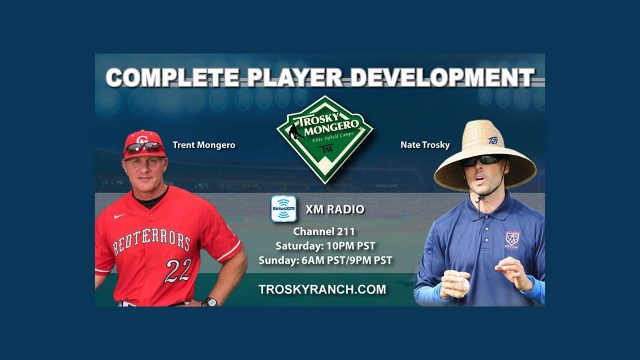 Saturday 10PM PST; Replays Sunday 9AM EST/ 6AM PST
Complete Player Development is hosted on SiriusXM Channel 211 – Dan Patrick Channel. In addition to SiriusXM, Complete Player Development can be heard on IHeart Radio, iTunes in addition to 200 other locations.
Nate Trosky and Trent Mongero have teamed up to bring to you "CPD," Complete Player Development, "BTM" Body Tools Makeup; a branch of the Trosky Ranch – 6th Tool Nation! CPD is about information, and transformation. It's about providing the highest level of insight, to educate parents, coaches, and players in the player development process. CPD is a show dedicated to the aspiring baseball player in pursuit of excellence!
There's great disparity in what players set out to accomplish, and what they actually accomplish. CPD solves this problem of "Low Ceiling Development!" We believe it's not a lack of desire, but rather both a lack of education, and a lack of understanding. CPD addresses these underdeveloped topics through the teachings of the "What to Do," the "How to Do," the "Why to Do," and the "What to Do!" This "Full Circle Approach," of learning; develops the person, the player, the student, and the athlete. Weekly, Trosky and Mongero and their guests, will uncover the reasons for "Low Ceiling Development," and provide the answers to "Complete Player Development,"
The weekly show features both players and professional guests to contribute to the topics of "Player Development."
For more information and to listen to past shows, click here: https://troskyranch.com/radio-shows/