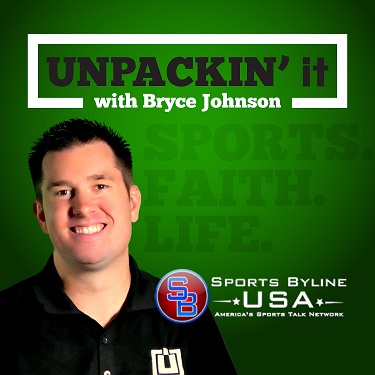 Sundays 9 – 10 AM ET/ 6 – 7 AM PT
UNPACKIN' it with Bryce Johnson is a high-energy and faith-based sports radio show. The show unpacks sports, faith, and life with intriguing guests from the sports and entertainment world.
Previous guests include Hall of Famers, Tony Dungy, Jim Kelly, Tim Brown, and Aeneas Williams; broadcasters, Ernie Johnson, Clark Kellogg, David Pollack, Mark Schlereth, Marcus Spears, and Scott Hanson; coaches, Mike Tomlin, Bobby Bowden, Hubert Davis, and Tony Bennett; and NFL players, Kirk Cousins, Thomas Davis, Derek Carr, and Colt McCoy.
The guests provide unique insight into their faith and character while opening up about their true passions in life.  Each show ends with an encouraging and inspiring segment called UNPACK this… which takes a current sports story and relates it to our personal lives and the Bible.
About the Host
Bryce Johnson has spent 13 years in the radio and media business both locally and nationally.  He's been hosting the UNPACKIN' it radio show since 2012 and is currently the President of UNPACKIN' it Ministries.
Previously, Bryce helped launch the Fox Sports 730 radio station in Charlotte, NC as their afternoon host; spent time at Sports Spectrum Magazine; hosted the award-winning radio show, SPORTS YAPP, while attending Appalachian State University; and co-hosted The Sports Page on WXIT in North Carolina. Bryce is also a speaker, emcee, and the author of The Fantasy Football Fellowship Playbook.