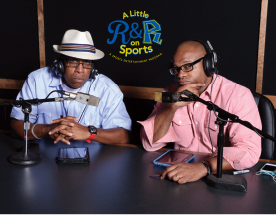 A Little R & R
Hosts: Howard Robinson and Larry Robertson
Saturdays, 11 AM, ET/8 AM, PT
This is not just another sports talk show format. A Little R&R is an entertaining sports show with something for everybody. But of course sports talk is at the core. Howard and Larry are southern black men influenced by different eras. They embrace debate with opinions through the lens of a cantankerous, insightful Baby Boomer and an argumentative, analytical Gen X-er.
Your listeners get perspectives, points-of-views and guests that are rarely featured in today's sports radio world. Plus, since Memphis is a legendary music mecca, music and entertainers are a big part of program with mixes by popular DJ Chris "Superman" McNeal. There are entertaining segments like "Larry's Lament" as well, with Larry "ranting" about sports subjects spoken word-style, over piano riffs played by Howard .