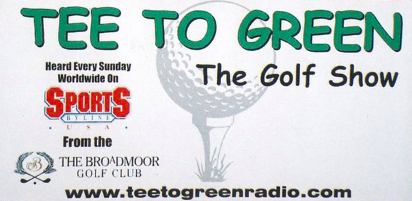 Sunday 10-11 AM ET
Hosts: Jay Ritchie & Jerry Butenhoff
America's longest running Network radio golf show, "Tee To Green" was the first show to take listeners into the World of Golf with tips on how to improve…visits to top resorts and courses…reviews of the latest equipment and intimate chats with Golf's biggest names.
"Tee To Green" originates from the five-star, five diamond Broadmoor Resort in Colorado Springs, home of the 1995 U.S. Women's Open, the 2008 U.S. Men's Senior Open and the 2011 U.S. Women's Open.
Jay Ritchie began co-hosting Tee To Green in 1991 and since then, he's interviewed nearly every big name in golf. He's spent most of his career in broadcasting, doing news, sportstalk and play-by-play of just about every sport, including golf. In 2009, Jay was honored by the Colorado Golf Association with the Dave Nelson Award for excellence in Golf Journalism. He calls Tee To Green his "dream job." His handicap, "not finding enough time to play"…but he talks a great game.
Jerry Butenhoff got his start in broadcasting in the early 80's on a campus station while he was a student at UCLA. Eventually, he worked his way to Colorado Springs and The American Sports Radio Network, where he hosted the "Blue-Line Hockey Show." After being a producer and contributor for "Tee To Green" in it's infancy, Jerry re-joined the program in 2001. He became co-host in 2006. Jerry is an avid golfer, trying to lower his handicap and still looking for his first hole-in-one.