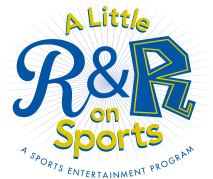 FOR IMMEDIATE RELEASE

A LITTLE R&R ON SPORTS BYLINE USA Everybody needs a little R & R on the weekend
SAN FRANCISCO, CA—Perhaps it's fitting that the radio network that first introduced the sports talk format to America is the home to the newest innovation in sports radio. A Little R&R on Sports is an hour long sports entertainment show airing on the Sports Byline USA Broadcast Network each Saturday morning at 11 AM, ET and on-demand throughout the weekend. This program's high energy sports-themed format has broad appeal for casual and die-hard sports fans alike.
"R&R is an Everyfan kind of show," explains R&R co-host Larry Robinson who conceived the show. "Sports is entertainment so we infuse variety and fun into our show." He and co-host Howard Robertson are not traditional sports radio co-hosts. They are businessmen, former college athletes and southerners who bring the unique perspectives of different generations (Robinson's a GenX'er and Robertson's a Baby Boomer).
All those flavors make a spicy sports gumbo that includes: topical commentary and perspective (Top of Mind), sports celebrity guest interviews (Iconversation), a roundtable barbershop-style conference call with fans from across the country (Street Talk) and sports comedy and satire (Larry's Lament & Uncle Ragus). And since they broadcast from Memphis, TN, a musical mecca, it would be sacrilegious not to have music in the mix. R&R has DJ Superman (Chris McNeil) live in the studio each week, featuring hot mixes of hip hop, classic soul and R&B music.
"Just like omelettes, great coffee, Mimosas and Bloody Mary's, people are making A Little R&R on Sports one of their favorite things to do on Saturday mornings," explains co-host Robertson. "It doesn't get any better than that." R&R can be heard on nearly 200 Sports Byline affiliates plus sportsbyline.com as well as iHeartRadio, the American Forces Network, Tune In and CRN Digital Talk.
###
Contact: Howard Robertson (901) 521-1300