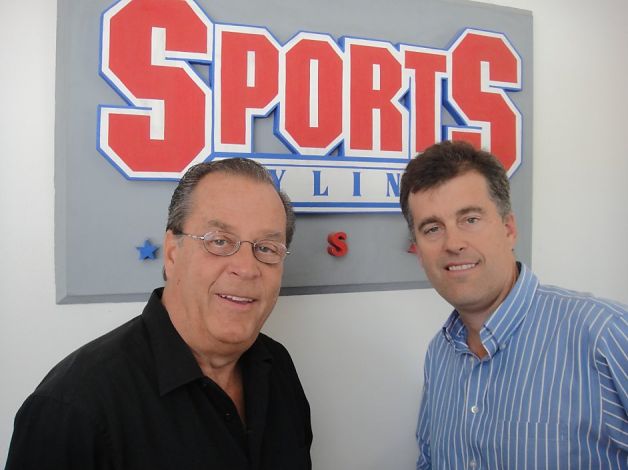 Library Honors Sports Byline USA Interview Collection
Sports Byline USA's Ron Barr, NFL's Brian Billick, NBA's Adonal Foyle Headline
Emmy Award-winning broadcaster Ron Barr—founder, producer and host of network radio's "Sports Byline USA"—has interviewed some of the most legendary sports figures in the history of athletic competition, including John Wooden, Dale Earnhardt, Mickey Mantle, Billie Jean King, Willie Mays, Bill Russell, Bonnie Blair, Jim Brown, Joe Frazier, and thousands more. At the Library of Congress on Friday, March 14, at noon, Barr will bring his charismatic interview style to a unique roundtable discussion of his historic conversations and the Library's acquisition of the Sports Byline archive in 2013. Free and open to the public, the program will be held in the Mumford Room on the sixth floor of the James Madison Building Memorial Building, 101 Independence Ave., S.E., Washington, D.C.
Joining Barr in the wide-ranging discussion of sports, broadcasting and preservation will be Brian Billick, football commentator and former Super Bowl-winning coach of the Baltimore Ravens; Adonal Foyle, 13-year NBA veteran who, through his charitable work, helps needy children and encourages civic involvement; Gene DeAnna, head of the Library's Recorded Sound Section; and recorded sound curator Matt Barton. The program will also feature several audio clips of Barr's interviews with various sports icons.
In 1988, Barr launched the three-hour nightly "Sports Byline USA," the first national sports-talk show. The 24/7 network, which has grown into one of broadcasting's largest multimedia sports-talk networks, is carried on hundreds of radio stations nationally and worldwide, Sirius/XM Satellite Radio, the American Forces Network, CRN Digital Talk Network, iHeartRadio Talk, Tunein, Stitcher, SBNation and on all phone and mobile devices.
The Library's Sports Byline collection consists of 25 years of more than 10,000 recorded interviews with athletes, coaches, trainers, managers, owners, writers and others in baseball, football, basketball, hockey, soccer, tennis, golf, track and field, and many other sports.
Many of these historic interviews are available for listening on a streaming basis free to the public on the Library's website (http://loc.gov/collection/sports-byline/about-this-collection/), including interviews with Mickey Mantle, Reggie White, Hank Aaron, Oscar Robertson, Mike Krzyzewski, Archie Griffin, Meadowlark Lemon, Jose Canseco and John Elway.
The interviews are being digitally preserved at the Library's Packard Campus for Audiovisual Conservation (www.loc.gov/avconservation/) in Culpeper, Va. More than 1,500 recordings have been digitized to date.
The Sports Byline collection will join other great sports recordings in the Library's holdings, including Clem McCarthy's classic calls of the Joe Louis-Max Schmeling rematch, as well as many memorable broadcasts featuring such sportscasting greats as Bill Stearns and Mel Allen.
The Library of Congress holds the largest collection of sound recordings in the world and has been collecting and preserving historically, culturally and aesthetically significant sound recordings in all genres for more nearly 90 years.   The Library of Congress was established by the U.S. Congress to promote awareness of the need to preserve the nation's recording history for posterity.
Many of the Library's rich resources can be accessed through its website at www.loc.gov.
# # #
Press contact:  Sheryl Cannady, Library of Congress (202) 707-6456, scannady@loc.gov
Public contact: Matthew Barton, Library of Congress (202) 707-5508, mbarton@loc.gov