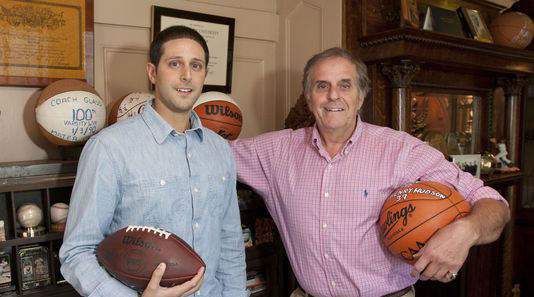 Five seconds into his opening monologue, Keith Glass launches his first salvo.
"New Jersey Governor Chris Christie, who's very busy with other things — he's probably working out at the gym; he's directing traffic on the George Washington Bridge — he took time out of his busy schedule to authorize legal sports betting about 11 minutes from my house at beautiful Monmouth (Park)," he says.
And Glass, a prominent pro basketball agent who is trying his hand at talk radio, actually agrees with Christie on this. As for the pro sports leagues that claim the measure would cause "irreparable harm" to their reputations? Not so much.
"It's not hard to find evidence of (already widespread) betting if you're the NFL," Glass says. "To give them a clue, it's probably laying in a folder next to the Ray Rice video."
He then invokes former NBA commissioner David Stern, who also fought Jersey's sports betting initiative.
"In 2012, David Stern was quoted as saying, 'All New Jersey's interested in is making a buck or two,' " Glass says, the irony dripping from his indignant, Long Island-accented voice. "I made my living in the NBA in 2012. Never knew they were a non-profit."
Welcome to "Off the Glass" — an hour of straight talk and rollicking entertainment that airs each Saturday from 3-4 p.m. via I Heart Radio, Sports Byline and the Armed Forces Radio Network.
Glass, a longtime Rumson resident, co-hosts with son Tyler, a former Rutgers basketball player and fellow agent who lives in Red Bank.
The father-and-son pairing works because Tyler knows just where to place the lighted match and get the biggest explosion out of his dad.
"It's the same thing we've been doing for years between me and my dad," Tyler said. "Just now it's on a microphone."
MORE CARINO: Famous, forgotten and buried in West Long Branch
MORE CARINO: Greetings from a new columnist
Spontaneous beginnings
The show has cache because the elder Glass is an insider, albeit an irreverent one. His 2007 book "Taking Shots: Tall Tales, Bizarre Battles, and the Incredible Truth About the NBA" earned acclaim for its humor-spiced critique of pro sports' ills.
Although he has plenty of experience with the media, Glass never intended to join them. His youngest son Luke played basketball at Drew University, and a teammate's father who made a living in radio encouraged Glass to give it a shot.
"Things always seem to happen that way with me," Keith Glass said. "I didn't plan on being an agent. I didn't plan to write a book. I didn't plan to be a radio guy. You have to be open to things."
Launched in June, "Off the Glass" is taped in Manhattan's Sound Lounge by producer Marshall Grupp. It features an interview with a notable guest and a "news" segment during which Tyler goes through the week's big headlines and Keith gives his hot take.
Guests have included NBA coach Scott Brooks, former Dallas Cowboys quarterback Roger Staubach and former college basketball coach turned ESPN commentator Seth Greenberg. Most recently, writer Jon Wertheim came on to discuss his Sports Illustrated cover story on homeless athletes.
Could they get NBA commissioner Adam Silver?
"We could probably get him on, but I don't know if I'd call him a dream guest," Tyler Glass said with a laugh. "I'd love to get Michael Jordan, Magic Johnson, Larry Bird."
The show is not celebrity-driven, though. Issues set the agenda.
"I'm trying to get everybody to understand how much baloney there is in sports," Keith Glass said. "Millions of us are willing to buy water for $6.50 a bottle. That's what they charge at the Garden. What we need is a John Adams, a Ben Franklin, to say, 'Wait a minute, I'm not buying water for $6.50.' "
MORE CARINO: From ring to gridiron, Mayfield name echoes in Jersey
MORE CARINO: What caused Sayreville, and how we can fix it
Rallying for Sandy relief
Obviously Keith Glass loves to get behind a cause, and superstorm Sandy gave him a big one. When friend and former Oakland Raiders linebacker Phil Villapiano launched his "Foundation to Save the Jersey Shore" in the wake of the devastation, Glass organized an annual golf outing and auction. He's raised nearly $300,000, but noted that, "It was a lot harder for me to do it" in Year 2.
"We made a lot of money, but it fades and people don't understand that there are a lot of people still suffering," he said.
On the air, Glass tackles the issues closest to his heart in his opening and closing monologues, which last two minutes. He writes down a few bullet points and goes from there, and his delivery is the perfect combination of smooth and edgy.
Last week's show ended with an elbow aimed at North Carolina men's basketball coach Roy Williams in light of the Tar Heels' academic fraud scandal.
"In 1971, I was thrown out of UNC because of academics," Glass said. "After looking at what's going on at Carolina now, I may have been the last one."
There's been plenty of harsh media commentary on the matter, but Williams largely has escaped the fallout.
"The real beneficiary, the ultimate one, is Roy Williams," Glass said. "Roy has been compensated, glorified to an extent you wouldn't believe. If you want to check on it, if you want to contact Roy directly, call Springfield Massachusetts and the (basketball) Hall of Fame."
Not surprisingly, a major media company is expressing interest in syndicating the show. Glass said there has been talk of going five days a week, two hours a day, with callers. But the father-son team, with their thriving agency, might not want to take that leap.
Either way, "Off the Glass" will continue breaking eggshells.
"If you tell the truth, two things happen," Glass said. "One, you don't have to answer to anybody. Two, you don't have to remember anything. I gave up lying when I was 19. I was lying to different women. It got very complicated. Now, hey, whatever."
Staff writer Jerry Carino: jcarino@app.com
Photo credit: BOB BIELK/STAFF PHOTOGRAPHER./ APP.COM