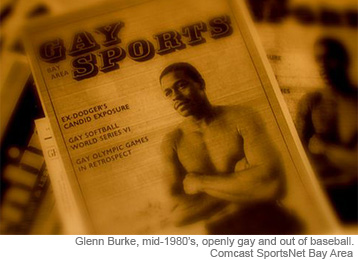 ON SPORTS BYLINE USA
"Out. The Glenn Burke Story" tells the dramatic tale of Burke's Major League career as an outfielder for the Dodgers and as a starter in Game One of the 1977 World Series, to being traded to the Oakland Athletics the following season, and then walking away from the game that he deeply loved in 1980. Many of Burke's teammates were aware of his homosexuality during his playing career, as were members of management. And many of those teammates believe that his sexuality led to the premature derailment of his baseball career.
---
Out. The Glenn Burke Story explores the wedge that was driven between Burke and the Los Angeles management, the ensuing similar situation in Oakland that led to Burke's abrupt retirement, and the hero's welcome that Burke received in San Francisco's Castro District after he left professional baseball. The documentary follows him through his public announcement of his homosexuality in a 1982 Inside Sports magazine article and on The Today Show with Bryant Gumbel, to his downward spiral after his split from baseball, a split that drove Burke to drugs and prison, and eventually to living on the same San Francisco streets where he was once recognized as an icon.
Burke's story took on another level of tragedy when he was diagnosed with AIDS in 1994. Yet at the end of Burke's life, the game that he claimed abandoned him so many years before reached out to one of its own. The A's found Burke and provided him with constant support in his final months, as did some of his former teammates.
Out. The Glenn Burke Story features numerous interviews with Burke's teammates and friends, including Dusty Baker, Davey Lopes, Reggie Smith, Rick Monday, Manny Mota, Rickey Henderson, Claudell Washington, Mike Norris, Shooty Babitt, Tito Fuentes, and former Major Leaguer and gay rights activist Billy Bean.  Out premiered on Comcast Sports on Novemeber 10, 2010.

(the above is an excerpt from Comcast Sports Net)
Click below to listen to Ron Barr's interview with the film's executive producer, Ted Griggs.

https://sportsbyline1.com/audio/Ted_Griggs_Seg_1.mp3